God360 Stories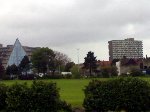 Pray for Southampton
I couldn't get to a high point on my way to or from work, so I stopped by the sea in Southampton. This isn't one of the greatest views. But is reminded me to pray for Soton, which haven't ever done much of before!
Posted by Miriam, 28 May 2006
Prayer for my City
I leave for work extremely early, as I commute, so decided to modify this one. I prayed for Southampton whilst driving around the ring road on my way to work. How did I find it? It helped me to focus on God in a very practical way. My fear is that I will do this as an exercise rather than continuing with it. It is important to make the principles learnt in God 360 into a lifestyle rather than ticking off the days. It gave me a real awareness of my City and its problems and I would like to think I will continue to bring Southampton before God.
Posted by Wendy, 28 May 2006
Charity shop task
I couldn't do it!!!
Its too easy to give away a CD (they've all been transferred to my Ipod) and the thought of giving anything else away that I value (my clothes mainly) leaves me feeling panicky!
If all my stuff went up in a fire, I think I'd be cool with it becuase the decision would have been taken out of my hands.
So instead I am just reflecting on the fact that God CHOSE to send Jesus. He CHOSE to deliberately send Jesus. It wasn't some cosmic accident that God thought he may as well make to best of: "now that you're there, Son, you may as well see what you can do". It was deliberate.

"For the Son of Man came to seek and to save what was lost." Luke 19:10
Posted by Miriam, 28 May 2006