God360 Stories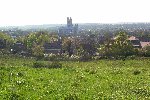 picture
Huh?! Don't think i've got to the longest verse day yet, so you beat me!
Went to a high place overlooking my town last week, actually to do some revision but took bible and God360 with me, and actually spent more time reading bible than revising, doh!
Took a picture from there and have added it to my notebook of people i'm praying for- this has been very very gd! Have finally found a way that i can pray for the people on my heart without forgetting any of them!
Now whenever i look at that picture i'm prompted to pray for all the schools, churches, uni's etc- I've had it on my heart to pray for my city (Canterbury) for a while but struggled to find a focus, there just seemed to be so much to pray for! But it's finally got me praying regularly for it. Amen!
Posted by clare, 11 May 2006
The longest verse in the bible!
According to the NIV Esther 8v9 is 71 words long
in the NKJ it's 90 words long!
In the NIV Ezekiel 48v21 is 78 words, in the NKJ it's 80 words.

So the longest verse in the bible really depends on what bible you read?

Am i now entitle to ?100 book token???
woo hoo
Posted by Steve Carter, 8 May 2006
Longest Verse In The Bible!
Esther 8v9 is the longest verse in the bible!
Did i get there first?
Posted by Steve C, 8 May 2006